Sold-out Premiere 4-15-17 with a huge standing ovation for Keri Pickett's documentary feature film First Daughter and the Black Snake at the historic uptown theater in Minneapolis St. Paul International Film Festival in Minneapolis, MN.
Winona LaDukes' family was representing! Her partner Don Wedll, mother Betty LaDuke, her family and community came along way to attend the opening. Representing on my side was my mother, BJ French, who traveled from Florida and my sister, Kim Mahling Clark who came in from Arlington, VA to attend the premiere. The Mahling side of my family came and my Aunt Kathy Mahling rearranged her Easter Service plans to attend the premiere. The room was electric. My iphone went to Amy Nankivil and my Canon camera to Peter Shortridge. Thanks to them I have a great pictures to document this historic night in the life of the film First Daughter and the Black Snake and the night that my family met Winona's family.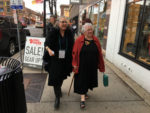 Having the film open at the historic Uptown Theater was thrilling as the house capacity is 350 people and the place was packed. Winona LaDuke's family attended the premiere including Winona's mother, the painter Betty LaDuke who traveled from Ashland, Oregon for the event. In addition to Winona's children and grandchildren the premiere was attended by Detroit resident, the photographer and activist Emma Lockridge.
The audience laughed, gasped, clapped and cheered during the screening and they all jumped to their feet following the screening. This night was historic for me to play such a huge theater and to finally share the film with Minnesota!